+ Home > News & Publications > Feature Stories > 2007 Archive
FEATURE STORY
By Jarrett Cohen
Through its Applied Sciences Program, NASA is extending the benefits of Earth science research results to the American public. "We want to make sure these advances get used as quickly as possible to save lives and property," says Marty Frederick, Deputy Associate Director for Applied Sciences, Earth Science Division, Science Mission Directorate. Project FastPath, an alliance between the Applied Sciences and High-End Computing (HEC) Programs, aims to put the power of model-based prediction into decision-makers' hands.
Applied Sciences partners with operational agencies throughout the federal government, those "who serve the public and make decisions on their behalf," Frederick says. The program has worked with agencies as diverse as the Department of Agriculture, the Centers for Disease Control, the Federal Emergency Management Agency, and the National Oceanic and Atmospheric Administration (NOAA). These partnerships focus on 12 applications of national priority (see figure below).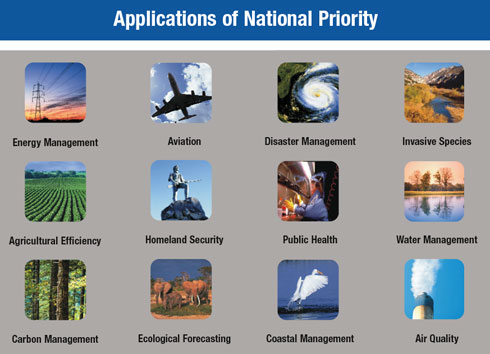 The Science Mission Directorate's Applied Sciences Program focuses on 12 practical applications that can benefit from NASA Earth science research.
Significant benefits have resulted from other agencies using NASA satellite data. NASA has supported recovery efforts for September 11, hurricanes, wildfires, lost aircraft, tsunamis, and floods. In particular, adding observations from the newest sensors has enabled NOAA to detect hurricanes earlier and improve forecasts of hurricane tracks, which could provide as much as $40 million in cost savings for each event.
Applied Sciences created Project FastPath to achieve similar success for the agency's Earth system modeling efforts. "We recognized that the Applied Sciences Program didn't have a good track record in extending the results of the models, which have prediction capability," Frederick says. "In order to run models and process large data sets effectively, we need high-performance computing capability."
HEC Program resources at NASA's Ames Research Center and Goddard Space Flight Center not only include computers that can calculate trillions of operations per second (teraflops). There are also petabytes of storage (peta = thousand trillion), multi-gigabit-per-second networks, scientific visualization technologies, and a data portal for sharing results.
"If we are creating a path between research and operations, we are using that incredible computing capacity to make those connections happen faster," Frederick says. According to Moore's Law, the number of transistors on a chip—and, thus, processing speed—doubles about every 2 years. Frederick estimates that the operational community takes 5 years to adopt new high-performance computing techniques. "Nearly three generations could go by before the operations world incorporates the advances," he points out.
Project FastPath is working to combine Earth system models and observations into decision-support systems.
HEC enables high-resolution Earth system models and data assimilation systems that can incorporate the full panoply of NASA Earth observations. The central purpose of Project FastPath is to combine models and observations into decision-support systems (see figure above).
NASA satellite data significantly enhances operational in-flight icing predictions from the National Oceanic and Atmospheric Administration's Aviation Weather Center. The NASA-improved version is on the bottom.
One application embracing the FastPath paradigm comes from Applied Sciences' Advanced Satellite Aviation-weather Products (ASAP) Project, which works with the Federal Aviation Administration and NOAA. ASAP researchers recently began using HEC's 10,240-processor Columbia supercomputer at Ames. With Columbia, they are integrating NASA cloud microphysical data and algorithms into the NOAA Aviation Weather Center's operational in-flight icing product—Current Icing Potential (CIP). An earlier benchmark study showed that incorporating NASA data would significantly enhance CIP's accuracy and triple its resolution (see figure at right).
Particularly valuable to CIP forecasts are ASAP icing parameters developed at NASA Langley Research Center. Optimizing the ASAP software on Columbia will allow it to run within the cycle time of the relevant NASA and NOAA satellites and eventually make delivery of icing data to NOAA routine. "Columbia is a valuable asset for aviation applications," says John Murray, senior atmospheric scientist at Langley. "ASAP anticipates using the supercomputer in future efforts addressing hyperspectral data assimilation, turbulence forecasting, and the volcanic ash hazard."
Other FastPath efforts getting underway include collaborations in air quality, coastal management, and public health. To encourage advances across all 12 national applications, Applied Sciences released the solicitation "Decision Support through Earth Science Research Results" this February. The intent is to fund teams of organizations to build decision-support systems that use NASA modeling and data analysis tools. Proposals were due May 25, 2007, and projects are expected to begin in January 2008. Applied Sciences and HEC are also analyzing ongoing projects to see if additional investments can enhance them in ways not envisioned when they were first proposed.
The ultimate goal is for operational agencies with no experience in high-performance computing to begin using its predictive capabilities. "We want to reduce the intimidation factor," Frederick says. "We want to show them that it is a tool like Microsoft Office or GIS that they can adopt." In the future, he envisions farmers, foresters, fishery managers, and other frontline resource managers taking advantage of modeling results for making their day-to-day decisions.
---
For more information about Project FastPath, contact:
Marty Frederick, martin.frederick-1@nasa.gov or
DeWayne Cecil, dewayne.cecil-1@nasa.gov
For more information about NASA's Applied Sciences Program, visit:
//appliedsciences.nasa.gov
For more information about NOAA's Aviation Weather Center, visit:
//www.aviationweather.gov/